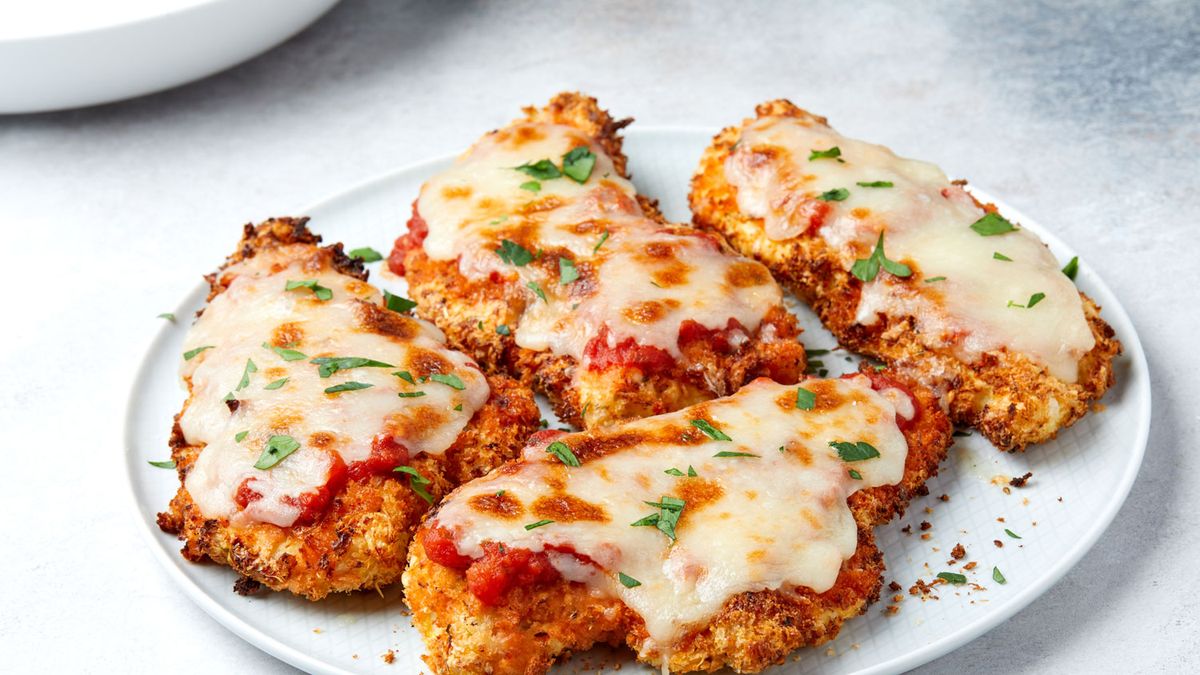 Chicken Parmagiana
Chicken Parmagiana
Usually Chicken Parmigiana Is A Fried Chicken Dish That Uses Sauce, Cheese And Served With Spaghetti. The Difference With Chicken Cordon Bleu Lies In The Location Of The Cheese, While Cordon Bleu Has Cheese On The Inside, While In Chicken Parmigiana, The Cheese Is Placed On Top Of The Chicken When Served. The Sauce Used In This Chicken Parmigiana Is A Very Tasty Tomato Sauce
Ingredients
1 Cup

Panko (Japanese) Breadcrumbs

2 Teaspoons

Finely Grated Lemon Rind

1 Teaspoon

Lemon Thyme Leaves, Loosely Plucked

Handful Of Shredded Parmesan

Chicken Breast Fillets, Beaten Flat

1 Brown Onion

Finely Diced

Handful Fresh Basil Leaves, Plus Extra To Serve

Buffalo Mozzarella, Sliced Into Rounds
Directions
First Thing You Need To Do Is Make Sure Your Chicken Breast Is Even Thickness All The Way Through — This Will Help It Cook Evenly In The Pan. You Can Do This By Placing It Between Two Sheets Of Baking Paper And Beating It Flat With A Rolling Pin, Or You Can Slice It Horizontally To Make It Even. Set It Aside
Mix Together Your Panko Crumbs, Crumb Herbs, Garlic Powder And Parmesan For The Crumb Coat. Line Up Your Bowls Of Flour, Whisked Eggs And Panko Crumb Mix, Then Dredge The Flattened Chicken Breast In The Flour, Dip It In The Egg And Then Pat It Into The Panko Crumb Mix And Set Aside
Heat A Little Olive Oil In A Non-Stick, Oven Proof Fry Pan. Fry The Chicken Breasts For A Couple Of Minutes On Each Side, Until Golden Crisp And Cooked Through, Then Set Aside.
In The Same Pan, Heat A Little More Olive Oil, Toss In Your Diced Onion And Sautee Until Soft And Sweet, Adding A Little Garlic Paste. Then Stir In Your Passata, Toss In Some Fresh Basil Leaves, Bring It To A Gentle Simmer And Cook Until Slightly Thickened (You Will Need To Simmer A Little Longer If You're Using Crushed Tomatoes, As They Are Wetter) — It Will Only Take A Couple Of Minutes. Turn Off The Pan Heat
Heat Your Grill To High, Lay The Crunchy Chicken Pieces Back Into The Simmered Passata Sauce (This Is Controversial Because You've Worked To Make The Chicken Crunchy, Some People Prefer The Sauce On The Side Or Only On Top), Then Top It With A Spoonful Of The Passata From The Pan (Not Too Much, You Want The Crunchy Chicken To Stay Crunchy). Lay Some Slices Of Mozzarella Over The Top Of That, Drop On A Fresh Basil Leaf, Sprinkle Over Some Parmesan And Then Pop The Whole Pan Into The Oven Under The Grill To Melt The Cheese.
Serve In The Pan, With The Cheese Still Oozy And Add Some Final Sprigs Of Fresh Basil.
Cheesy Polenta Is Another Great Way To Enjoy Some Comfort Food...
Recipe Reviews
There are no reviews for this recipe yet, use a form below to write your review